Social media is an important marketing tool that helps you talk to billions of people—for free.
Recent statistics say:
Among the 4.4 billion internet users, 3.499 billion actively use social media platforms.
Each user has an average of 7.6 social media accounts.
Users spend an average of 142 minutes on social media daily.
There are 60 billion messages sent on Facebook Messenger and WhatsApp each day.
With the above statistics, it is not surprising that 81 percent of all small and medium businesses use some kind of social media platform. By this point, it's highly likely that your business is already using popular social media sites such as Facebook, Twitter, Instagram, Pinterest, YouTube, and LinkedIn.
However, are you making the most of social media?
You will only benefit from social media if you have insightful and engaging content. Here are 5 strategies to create eye-catching content on social media– it's time to rock your social media world!
1. Use a Consistent Brand Voice
Social media is an excellent means to interact with potential customers online and build a strong brand following. The types of topics you share and the tone of voice you use will help you build authority and establish trust and emotional connection with your consumers.
Importance of consistent brand voice
Helps to make your business recognizable
Helps in developing a style and personality that's exclusive to your business
Allows consumers to relate more easily with your brand
Helps with engaging and building relationships with consumers
Helps to build consumer trust and loyalty
Provides reassurance to customers by delivering a consistent message
Ideally before starting your social media accounts, determine the tone of voice you will use. Review all communications from your previous campaigns and create a simple style guide for your social media campaigns. Here are some ideas on what you should include in your social media content style guide:
Brand personality and brand voice
Use adjectives to briefly describe your brand personality and determine your tone of voice. Is it professional or friendly? Serious or funny? This will make your brand more human and facilitate natural conversation.
What to post
This includes the types of posts you publish on your social media, such as brand announcements, blog posts, related news, or funny memes. List them out including all possible sources where you can find them. With this, you will have something to go back to whenever you run out of ideas.
The words you use
This includes jargon used in your business, or maybe a unique word or phrase used to reference your customers. It should also include proper word usage such as capitalization and spelling, when to use acronyms, as well as words that should be avoided.
Post Length
Specify the length of your posts. For reference, the ideal length of a Facebook status update is 40 characters. For Twitter, the ideal tweet length is 100 characters, while the ideal hashtag length is 11 characters or shorter. Determine how may hashtags you will use on each social media platform.
Take inspiration from social media pros. When you look at TED Talks' newsfeeds, you can see that they are consistent with the posts they share—uplifting and educational. On the other hand, Skittles uses a tone of voice that is both funny and 'out of this world' kind of weird that never fails to entertain consumers.
2. Use Visuals
Social media is an overcrowded market with too much competition. If you want to stand out, textual posts aren't enough. Visuals such as unique images, memes, funny GIFs, short videos are simple but powerful tools in making your social media campaigns more successful.
You can use visual content to express your brand, differentiate your business, showcase your product and services, convey an emotion, highlight important data, and increase traffic to your site. Below are the top reasons why you should use visuals on your social media content:
Visuals are more attractive to users
Visuals are useful in attracting more likes and shares. According to statistics, posts with images produce 650 percent higher engagement than text-only posts. On the other hand, visual content is 40 times more likely to get shared on social media platforms than other types of content.
Visuals are easier to understand
With the dwindling attention span of today's generation, making your content easier to consume gives you a big advantage. Visuals are easier to comprehend and thus, communicate more effectively than text. The human brain is more apt in interpreting visuals than written language. In fact, images are processed 600,000 times faster than text.
Visuals are more memorable
Visual content is more memorable than other types of content. A study revealed that people remember 80 percent of what they see but only recall 20 percent of what they read and 10 percent of what they hear. Use visuals to let people remember your brand and your message.
Tips in incorporating visuals in your social media content
Entertaining content such as funny GIFs and memes are the types of media that is heavily shared across social media platforms. If you are a serious brand and you think silly and amusing content doesn't align with your business, there are other ways to mix entertainment into your social media content. You don't need to try hard to be funny. You can also inject other emotions into your content. Try to share heartwarming, touching, or inspirational posts.
Another shareable type of post is informative and utilitarian content. For example, if you are selling eyeglasses, you can share graphics about which type of frame suits which face shape. You can share important data, figures or statistics from authoritative sites by creating infographics, charts, or tables. You can also repurpose old blog content into short graphics.
Choose consistent elements in your graphics to achieve recognition and enhance your branding. Add a logo or a website address to your images and use the same typefaces and color palette on all your visuals. You can also use similar grids or filters for all your visuals.
Different colors evoke different kinds of feelings. For example, red creates a sense of urgency, purple has an air of royalty, and black creates a sense of mystery. Pay special attention to colors you pick and ensure that the colors in your graphics match and harmonize with each other.
3. Looking after your audience
Sometimes, people forget that social media platforms are for consumers, not for marketers. People don't follow business social media accounts because they want to be sold to. If an account you follow bombards your feeds with advertisements, the first response is to unfollow or block that account. To be successful at social media marketing, you need to learn to look after your audience—show them what they want to see.
Do not lose sight of who your audience is. It's hard to design posts if you don't know how to define your audience. Gather data about your target audience and potential consumers. You can also try creating a fictionalized representation of your ideal customer or buyer persona so you can focus on how to talk to your consumers.
You should at least know about their:
Demographics. Gender, age, household income, nationality, etc.
Background and personality. Education, job title, lifestyle, hobbies, goals, etc.
Problems/Where can you help. Challenges they face and how can you help them.
Behavior. How they speak and behave on social media. What type of content do they like? Does it differ from platform to platform?
Write content that caters to your audience. Look at your social media metrics to know which types of posts get the highest engagement and replicate them on your next posts. Below are some other tips on how to look after your audience:
Try user-generated content. Instead of overpraising your own brand, content that comes from users serves as more excellent social proof. Reactions and reviews from real customers increases your credibility.
Run exciting contests to engage your audience. There are lots of competitions you can do on social media such as photo contests, fan art, video-making, or simply giving reactions to your brand. This will provide value to your audience. Give prizes to attract a lot of participants.
Transform your audience into paying customers. Offer "follower only" discounts and incentives.
4. Be Conversational to Connect to Users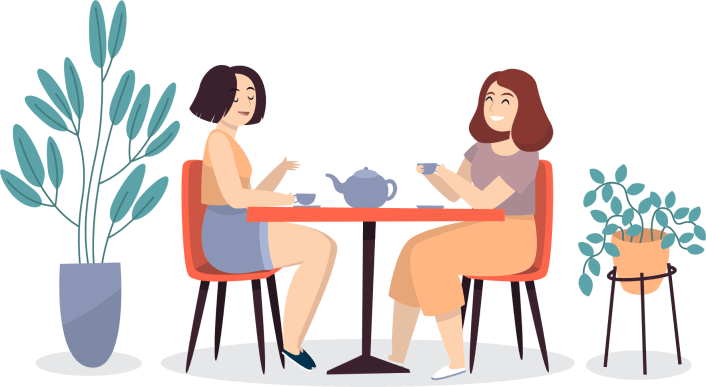 To connect to your audience, you should turn your posts into conversational content. You have to ask your readers and let them share their thoughts. That easy!
When you are posting about educational content, don't state the important information. Ask their opinion about it. Or when you are posting a graphic of a quote, ask them if they agree to it. Here are some other questions to make your posts conversational:
Have you ever heard of this?
Have you tried this?
Have you experienced this before?
Which tip is your favorite?
Have any more tips to share?
You can also try these posts to build connections with your audience.
Questions
Polls
Behind the Scenes
Personal Stories
Throwback Photos
Photos from events you're attending
Shoutouts to groups or individual users
Employee features
Gratitude Posts
5. Have a Powerful Call to Action
Call-to-action, otherwise called CTA, is part of your content that tells your target audience what to do.It is the most important part of your marketing campaigns. It gives your posts a sense of purpose and can be the difference between losing a potential customer and making the sale. Below are some tips on creating a powerful call to action:
Make it simple but attractive
Your CTA should be simple but compelling enough. Don't beat around the bush. It should be clear and concise to avoid confusion. Strike a balance between being serious and humorous. If your message is too rigid, it might sound unfriendly. Meanwhile, too much humor might make you sound vague and unclear.
Start your CTA with a strong command verb
Tell your audience what exactly they need to do. Use strong command verbs such as buy, shop, order, subscribe, download, visit, like, share, and more. A call to action saying "download our app now!" is much more direct than "our app is available for download."
Excite your audience
If you want to get a strong response from your audience, use words that provoke their emotion or enthusiasm. If your message is enthusiastic, your audience will likely get excited too. For example, "Find your dream home now!" That extra exclamation gives your message an extra kick. On the other hand, you can appeal to emotion with something like, "Donate blood, save a life."
Create a sense of urgency
Another good tactic for a successful CTA is creating a sense of urgency. Fear of missing out, also called FOMO, is a great motivator to convince your audience to take action. For example, "Shop now, sale ends today!" or "Available at 50% off until supplies last." It's harder to ignore these kinds of time-sensitive messages. When people think they'll lose out on a great opportunity that is hard to come by, they will more likely take action.
Reinforce their action with good reason
Give your audience a good reason why they should take action. Convince them with a value proposition, or maybe include a unique selling point. What's in it for them? Will it make their life more comfortable? Will it make them healthier? Or will it help them save money? You can also give them a tempting incentive. For example, "subscribe to our channel to get a free discount coupon."
Test, test, test
There isn't a "surefire" CTA strategy. To get the response you want from your audience, the only way to know the sure answer is to use and test them. Do an A/B test to identify which CTA brings the most clicks. Be creative. Don't stop polishing, tweaking, and improving your CTA.