No brand should miss out on the benefits of YouTube today. If you've already started a regular YouTube video content routine, that's fantastic. However, are you adapting the best practices to optimize your videos? Find out what these are and double down on your efforts to increase your brand visibility on YouTube.
Why YouTube SEO Is Key to an Effective Digital Marketing Strategy
YouTube is a search engine. Not in the same way that Google is, but because it is its own search engine, then it is one.
As such, it merits SEO that's tailored to it.
Another reason is that video is growing in popularity among marketers and consumers alike. People are consuming videos more and more, and brands are responding accordingly.
A Wistia survey at the start of 2019 showed that people watched an average of 2.2 million hours watched per week, which then increased to an average of 2.6 million hours at the beginning of 2020, when the COVID-19 pandemic broke out.
More specifically, among the highlights of Animoto's Social Video Trends: Consumer Insights for 2020 is YouTube unseating Facebook as the number 1 platform that impacts consumer behavior in 2019.
This means that having an active YouTube channel is practically essential for brands to reach and engage their target market. However, uploading a new YouTube content every, say, 3 days doesn't necessarily mean you are getting the eyeballs your business needs.
In their State of Video Marketing for 2020 survey, Wyzowl found that 92% of video marketers feel the level of noise and competition have increased in 2019. Given the growing popularity of video, thanks to the increasing number of readily accessible tools and technology, the competition will only get even tougher.
To be heard through the noise, small and start-up businesses need to put a premium on their YouTube SEO basics and get them right.
How to Improve Your Brand Visibility on YouTube
Here are the 5 YouTube SEO best practices you should absolutely be adopting.
1. Strategic keyword placement
The most strategic places to place keywords and key phrases in your videos are the title, description, file name, and the tags.
Video description
YouTube video descriptions can be as long as 1,000 characters, but not exceed that number. If your content requires it, by all means, write a longer description. Otherwise, it's wise to keep it short, with your keywords appearing at the start, for two crucial reasons:
People are primarily interested in watching the videos.
YouTube displays only the first two or three lines of text (about 100 characters), after which viewers have to click on show more to see read the rest of the description.
On the other hand, the description on this informative video on Behr Pro, the Behr Paint Company's YouTube channel, is only 155 characters long (32 words), and doesn't require the viewer to scroll down.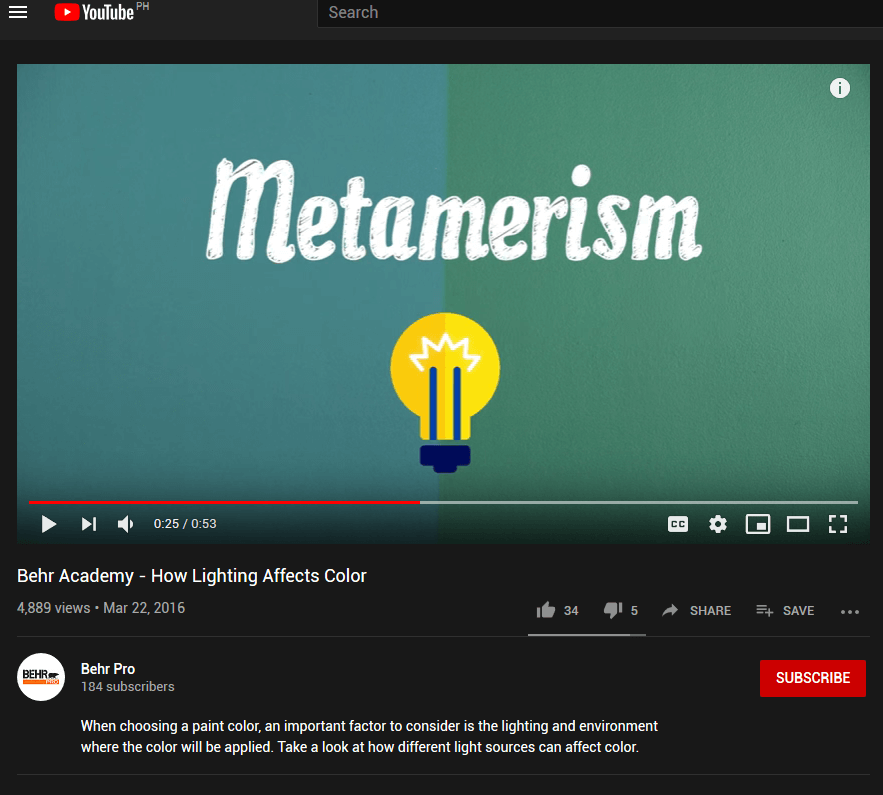 Video file name
Including keywords in a video file name helps YouTube get a better sense of what your video is about. This is crucial because while YouTube can read a video file name, it's not capable of "viewing" a video. So be sure to check your file name before uploading a video.
Video title
Just as you would put your keyword in webpage headings and article titles, so you should in your YouTube video title. Viewers can either click on your video or browse past it simply based on the title.
Your video title should not only carry a keyword, it should also give the viewers a clear idea of exactly what they are getting if they watch your video.
This video by American investor, entrepreneur, and internet personality Nate O'Brien, for example, is titled "My Daily Routine for Maximum Productivity"—which tells readers at once what they are about to learn: which routines worked for the video creator (which may also work for the viewer), and prominently features the keywords "daily routine" and "productivity."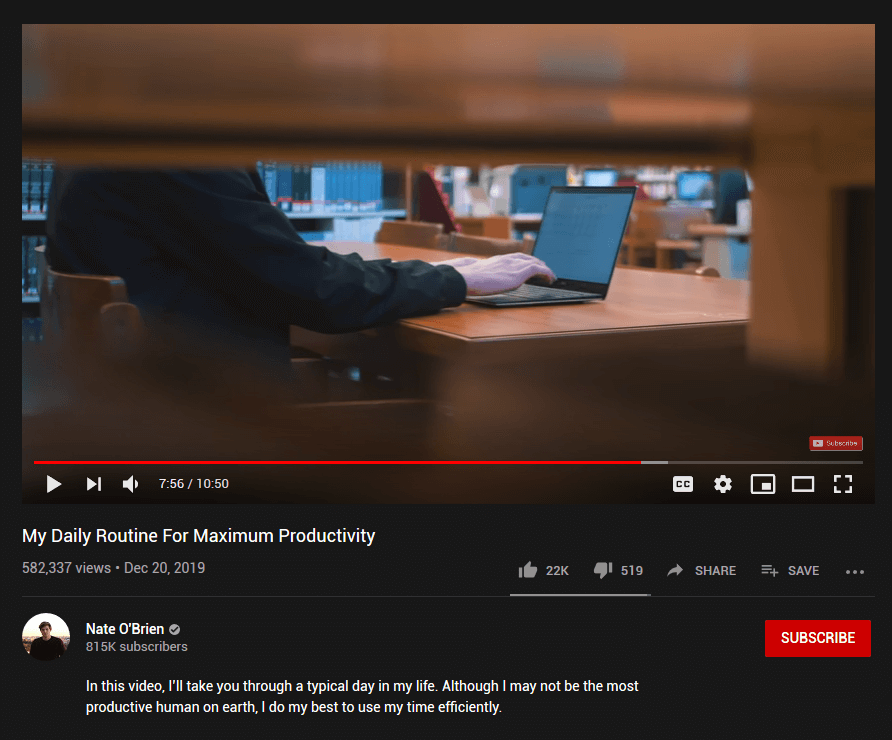 We see the same kind of clarity and keyword prominence in this video by Delish: "How to Make Perfect Sourdough Bread at Home (Starter Included!)"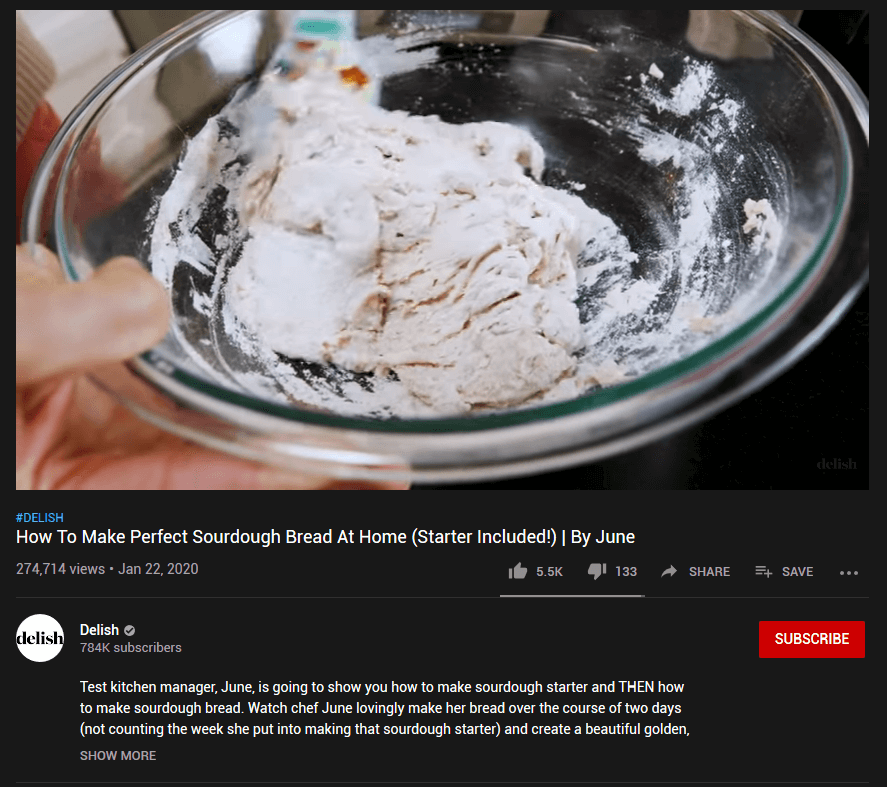 Subtitles and closed captions
These are yet another way to use keywords to optimize your video for YouTube search. Originally intended for the deaf or hard of hearing, closed captions turn out to be SEO friendly: they can be crawled by search engines!
To add subtitles or closed captions to your video, upload a supported text transcript or timed subtitles file. (You can directly enter video transcript text to auto-sync with your video.)
The process is similar for adding subtitles, although you can limit the volume of text to display.
To add either subtitles or closed captions:
Go to your video manager and click on "Videos" under "Video Manager."
Click on the video where the subtitles or closed captions need to go and click the drop-down arrow beside the Edit button.
Choose "Subtitles/CC."
Select how you'd like to add subtitles or closed captioning.
Be sure to use an SRT file.
Tags
Work your keywords into a few well-chosen tags to give your viewers as well as YouTube itself more information about your video. Tags clarify viewers' expectations and makes it easier for YouTube to associate your video with similar videos and expose it to a receptive audience, as illustrated by this video by Expedia promoting the Oregon Coast.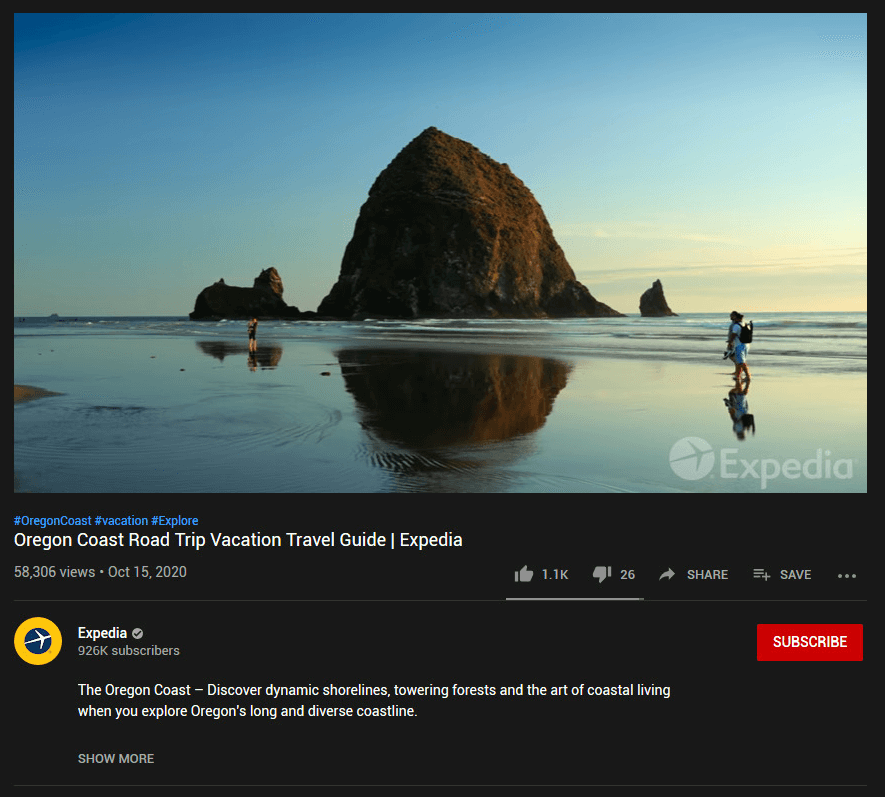 2. On-target categorization
When you group your video with similar YouTube content, it is included in various playlists and gets seen by more viewers who are exactly your target audience or have overlapping interests and solutions requirements.
Note, though: Picking an accurate category for each video can be an exhaustive process. YouTube's Creator Academy recommends establishing what's optimal in any given category by determining such details as the following:
The top creators in the category: why they are popular, what's great about their content
Qualities that are shared among videos within a particular category—e.g., length, format, production value
Any patterns (upload schedule/consistency, comments section activity, etc.) that influence number of views and engagement
3. High-quality customized thumbnails
Viewers scrolling through a playlist must be attracted to your video thumbnail and click on it. YouTube auto-generates thumbnail options, but going for this rather seems like you're not willing to make an extra effort.
Customizing your thumbnail shows that you've taken the extra step that gives readers something more. More importantly, "90% of the best performing videos on YouTube have custom thumbnails," according to YouTube's Creator Academy.
When customizing your thumbnails, keep in mind that their quality determines the kind and level of engagement you get for your video.
Be sure to adapt the following practices:
Pick the right size: 1280 pixels wide by 720 pixels tall, with a minimum image width of 640 pixels.
Use either JPG, GIF, BMP, or PNG.
Limit your thumbnail size to under 2MB.
Ensure that the thumbnail accurately represents your video, whether you're using a still image from your video or custom graphics. (Avoid titles and images that mislead.)
Include a short version of your title.
Make sure all text is readable in terms of text size and typography.
Include white space or negative space.
Put color contrast to good use.
Include your brand logo and keep it visible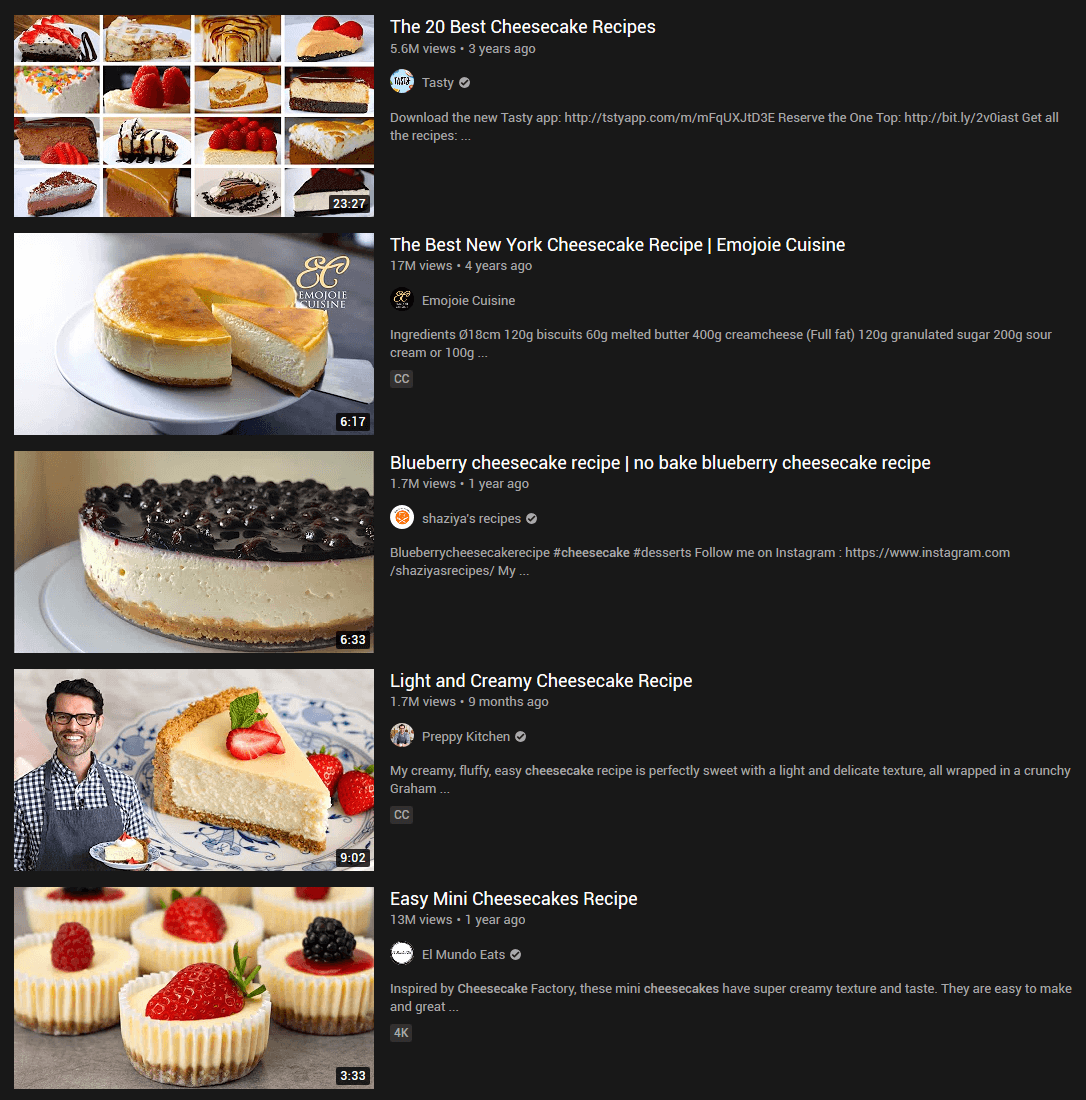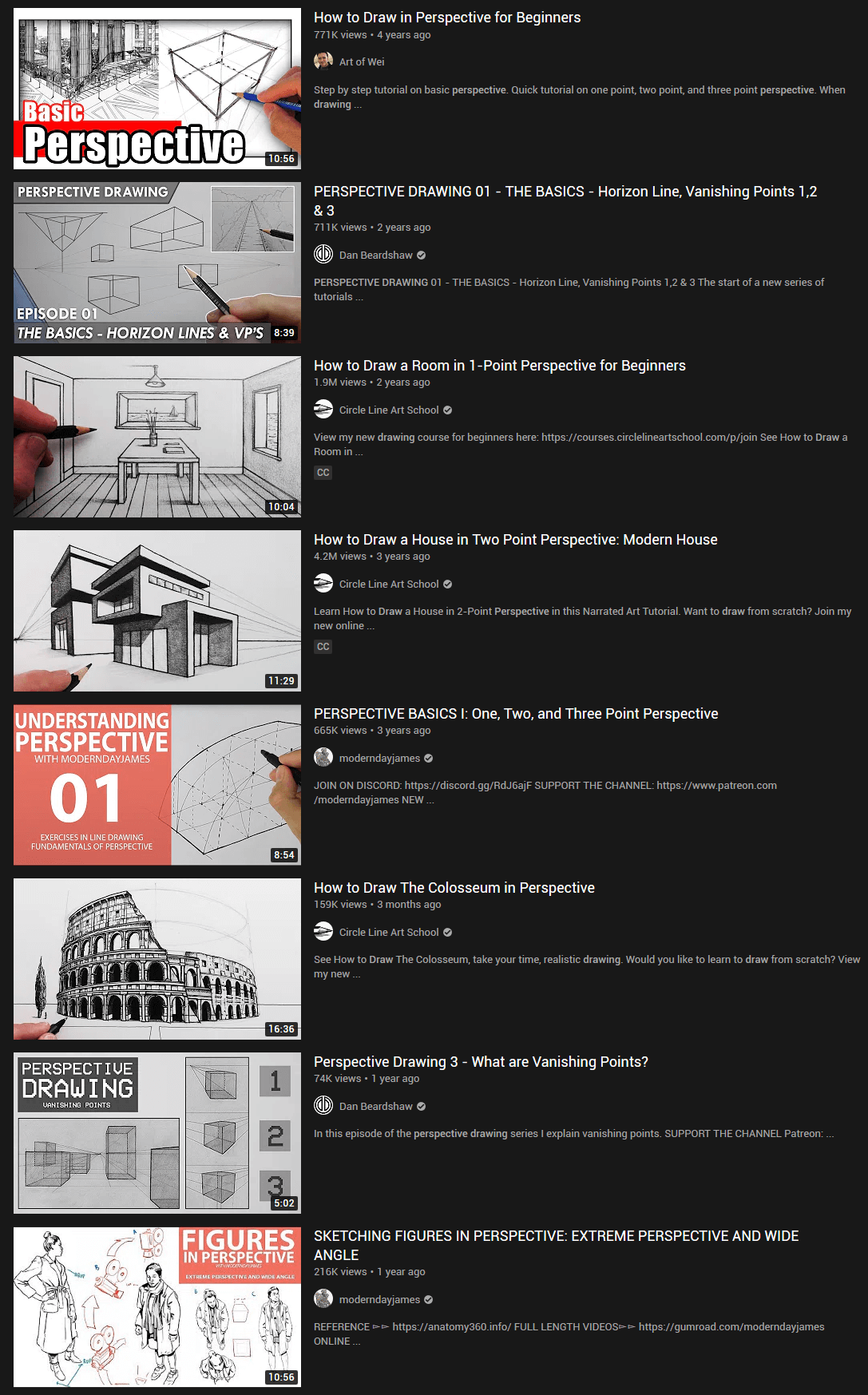 4. Add cards.
These are preformatted notifications that apply in both desktop and mobile video viewing. You can set these up to promote your brand, any campaigns and events, and the other videos on your channel.
Viewers see your cards through either of these scenarios:
When watching your video, they will see a teaser (top right corner) at the time you've designated for it to show, which they can click to browse the cards.


When they hover over the player and click the card icon (the small round white icon with an i in the center) in the top right corner.


Each video can carry a maximum of 5 cards.Your cards can be any of these 5 types:

Channel cards pointing viewers to another channel.
Donation cards that encourage fundraising on behalf of U.S. nonprofit organizations.
Link cards directing viewers to another site or to an approved crowdfunding or merchandise platform
Poll cards asking a question and inviting viewers to vote for a response
Playlist or video cards that link to similar YouTube content

(See Google's guide to adding cards to YouTube videos.)
5. Finish with an engaging end screen.
End screens offer basically the information as cards, except they appear only until a video is over. They also involve a bit more visual detail.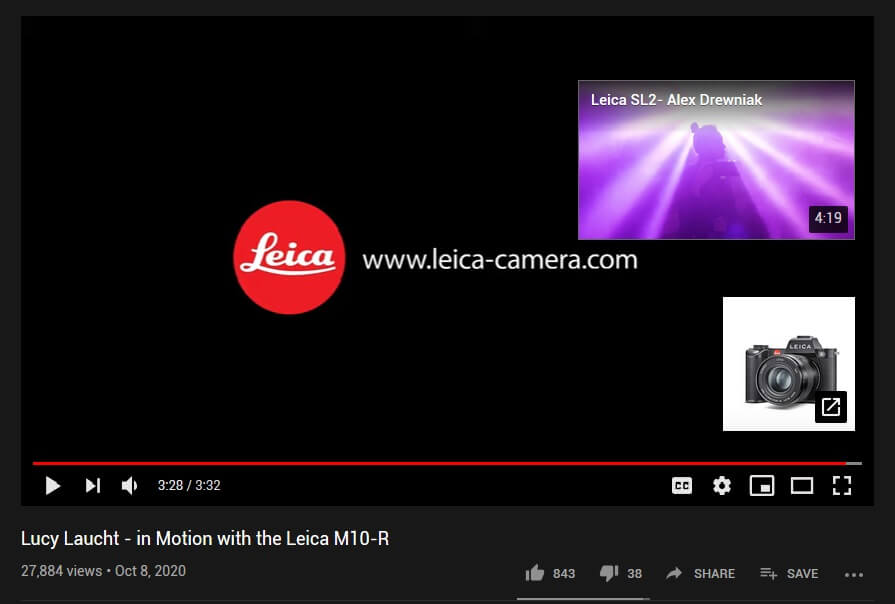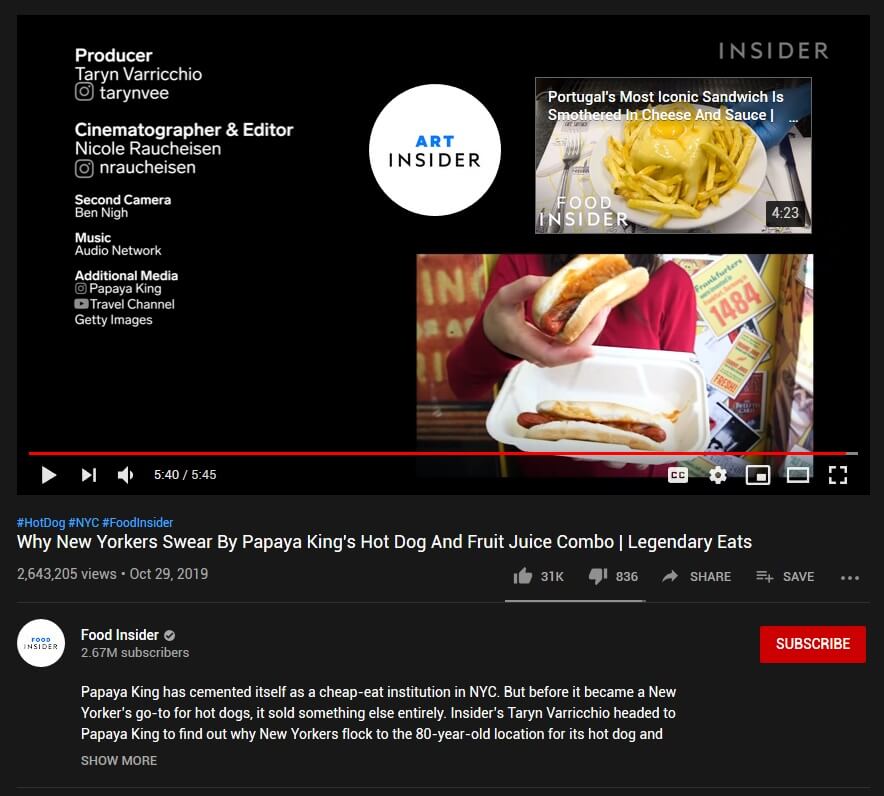 (See Google's guide to adding end screens to YouTube videos.)
Conclusion
Your YouTube videos can help you reach people you couldn't reach before and engage your audience at a level that you didn't think possible. Especially if they are properly fully optimized for YouTube search.
YouTube SEO is an indispensable modern brand-building component, and for start-up businesses dealing with a lot of moving parts, it helps to work with a partner who can deliver focused YouTube SEO that's guaranteed to make your target audience sit up and take notice.
Contact Purple Cow to learn more about our easily scalable unbeatable-value solutions.