Find out which tools will give you optimum social media management success and contribute spectacularly to your growth-hacking strategy.
What Is a Social Media Management Tool, and Why Do You Need One?
It's a software or platform used by social media managers to stay on top of their
tasks. At their core, social media management tools enable you to connect to multiple social media accounts and management, monitoring, and analysis of interactions from a single dashboard.
As a business, you need it because you need social media to connect with existing customers, and to generate leads for new customers.
Social media has been steadily growing over the years in terms of the number of platforms but, even more significant, number of users—the very same people that you want to reach and convert into satisfied, and therefore loyal, customers.
Then COVID-19 came along and raised challenges for every business regardless of size and strength, forcing everyone to adapt to the massive changes it has introduced.
COVID-19 has caused a spike in social media use, making it even more of a crucial factor to consider in every business's strategy for marketing, sales, customer retention, and growth.
However, embracing social media as a core component of your growth strategy means having at least 5 accounts (YouTube, Facebook, Instagram, Twitter, Pinterest) virtually regardless of your type of business. And then you need an account for the right niche sites, where you are likely to find an audience of existing subcommunities of users with shared interests (e.g., Etsy).
That's a lot of accounts to keep track of—and to keep track you must ensure that you're putting out quality, relatable, and lead-generating content across all sites. (Not to mention that you need to make sure your content is not unnecessarily repetitive.)
To accomplish this, you need sound and seamless social media management.
How Do Social Media Management Tools Help Small Businesses?
Publishing
Includes planning, scheduling, and posting content and campaigns
Calendar
Displays past and present posts for all your networks in a calendar (and/or list) view
Unified social inbox
Ensures real-time engagement with your audience across all your social channels
Listening and monitoring
Keeps you up to date with what people are saying about your brand as well as your competitors, facilitating insight based on the data. Also includes tracking keywords and phrases and hashtags across all the social networks.
Audience and community management
Offers insights into your audience in terms of who the influencers are and the levels of engagement and includes the ability to follow and unfollow, as well as add your own notes. Kind of like a simple social CRM (customer relationship management tool).
Analytics and reports
Gauges your social media success through reporting on all your social networks, including a capability for comparison with competitors.
Team features
Allows individual login for team members and includes a team approval system.
Note: Granted, not all tools carry the same number of features, but in any case, you should choose the tool that best addresses your business needs.
Which 5 Social Media Management Tools Should Be among Your Top Considerations?
What are the best social media management tools?
Lists abound that rank the numerous social media management tools available right now. We're paring ours down to the five names that are consistently included in the top 10:
Facebook, Instagram, Twitter, LinkedIn, YouTube, and Pinterest

Undoubtedly the most well-known social media management tool at the moment, with more than 18 million customers and "trusted by employees at 800+ of the Fortune 1000." Hootsuite is designed to work not just for individuals but for teams as well.
The details
As an all-in-one platform, it allows curating and scheduling content, measuring social ROI, running social media ads, and more.
It offers an option to search and filter through existing social media for brand mentions, insights, and demographic information.
It includes an analytics feature that enables tracking and measurement of performance against KPIs.
It generates customizable reports, ensuring the dissemination and use of relevant data.
Unique value
Monitoring of multiple accounts and keywords
Connection with over 35 social networks
Bulk-schedule posts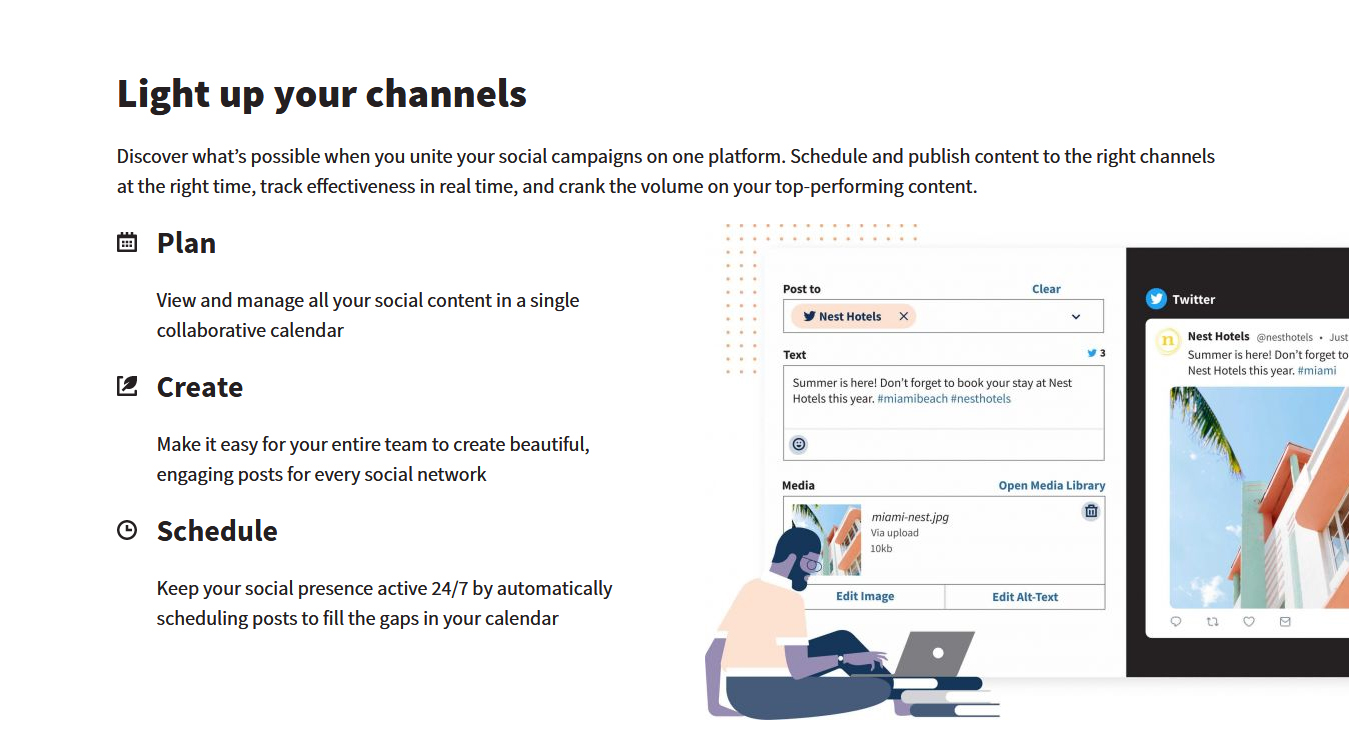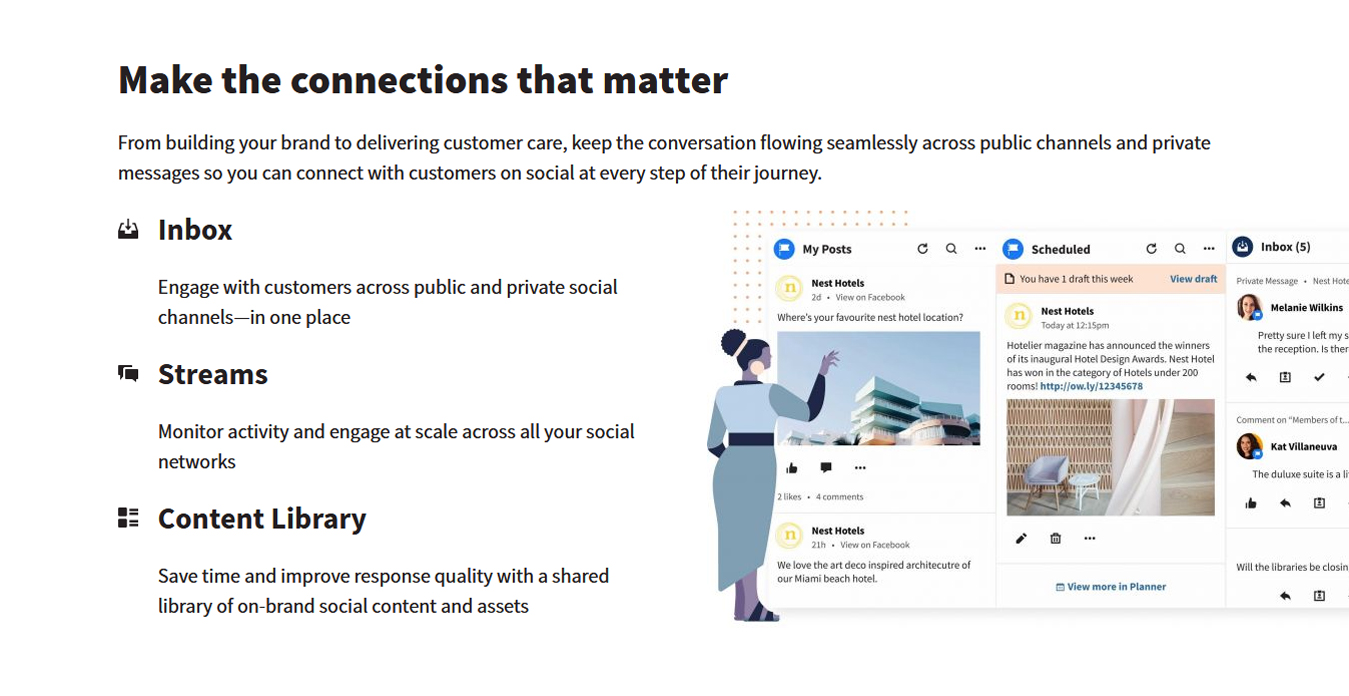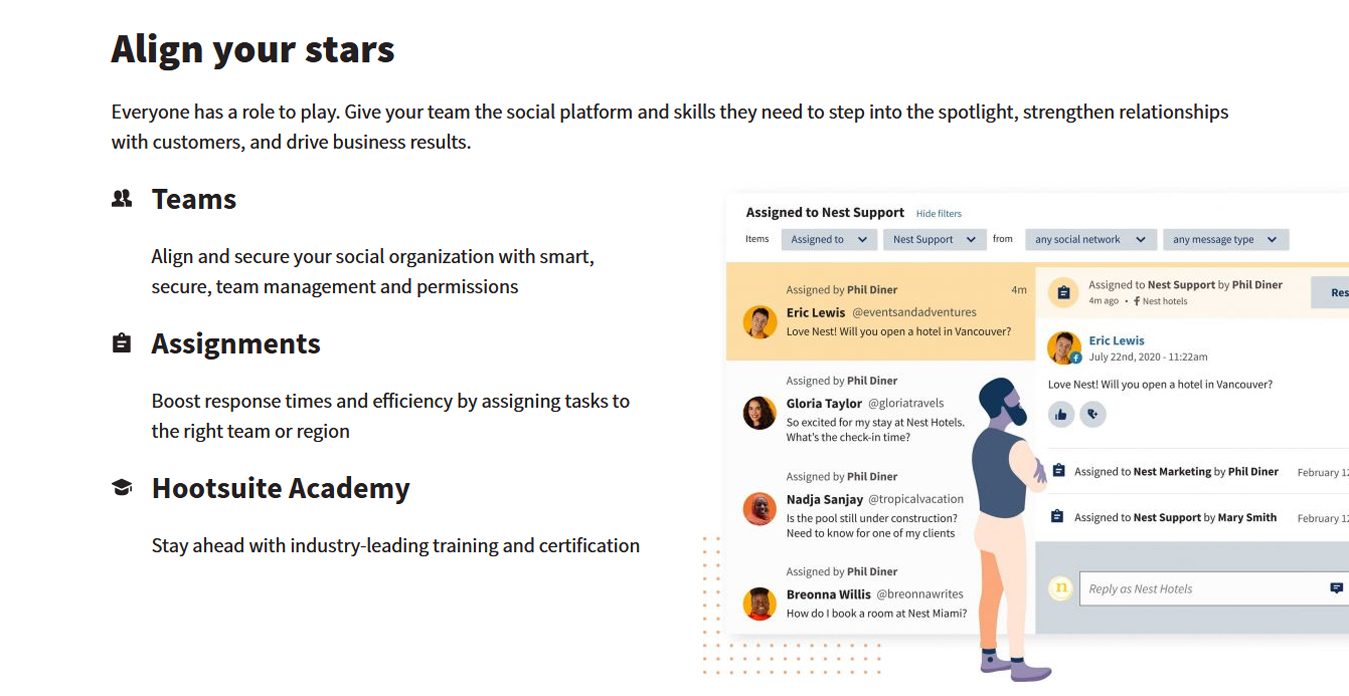 Prices
Unlimited free plan
$19, $99 per month with 30-day free trial
$599 per month
Enterprise pricing
Facebook, Instagram, IG Stories, Twitter, LinkedIn, and Pinterest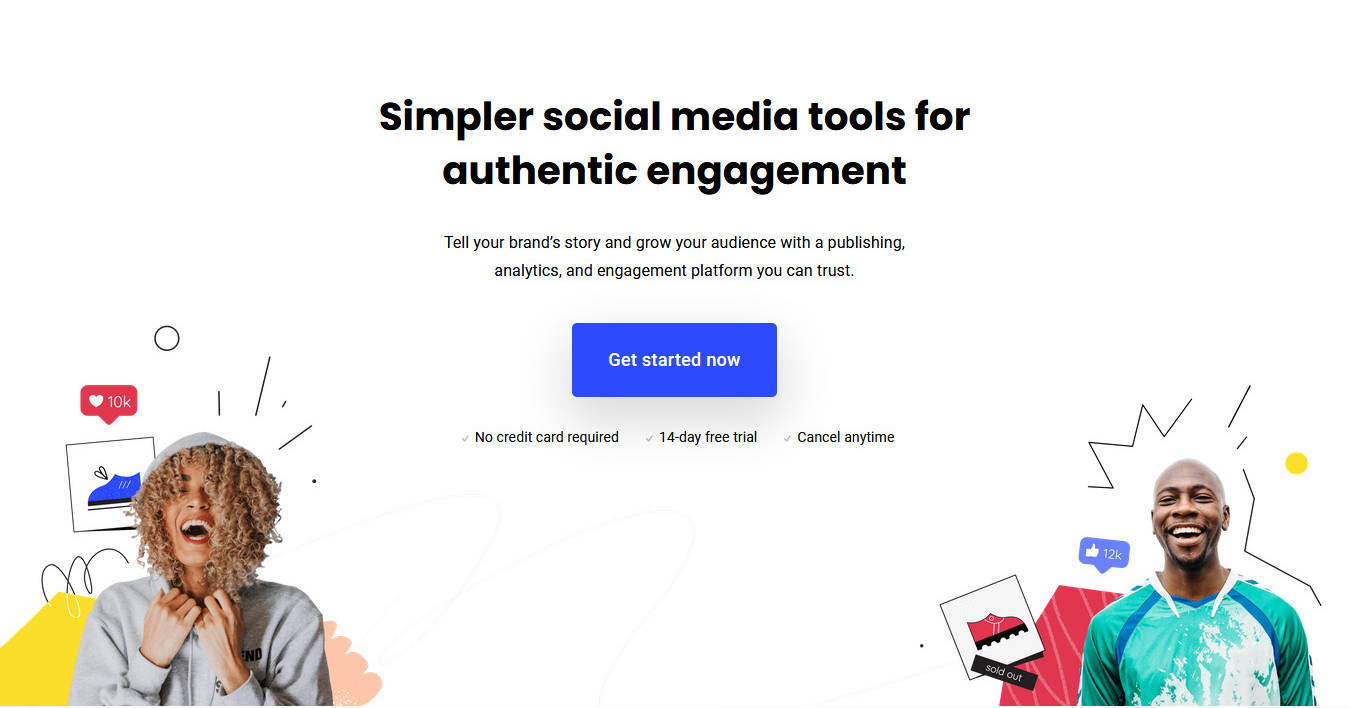 Intuitive, versatile, and streamlined. Its main features are publishing, engagement, analytics, and team collaboration, all designed to facilitate efficient and effective work for social media marketers and teams.
One of the reasons we love Buffer compared to other platforms, is it allows scheduling for Instagram, which isn't available with virtually any other platform currently.
The details
Buffer allows for user permissions and creating a user workflow.
It connects to a product called Reply, which gives users access to a social inbox.
It doesn't allow upload and recycling of hundreds of posts, but it does integrate from an RSS feed that enables publishing of posts from blogs.
It doesn't offer influencer search, and its client management support system is limited, but its design simplifies the content planning process.
Unique value
Clean and intuitive tools
Friendly and timely customer support
Helpful content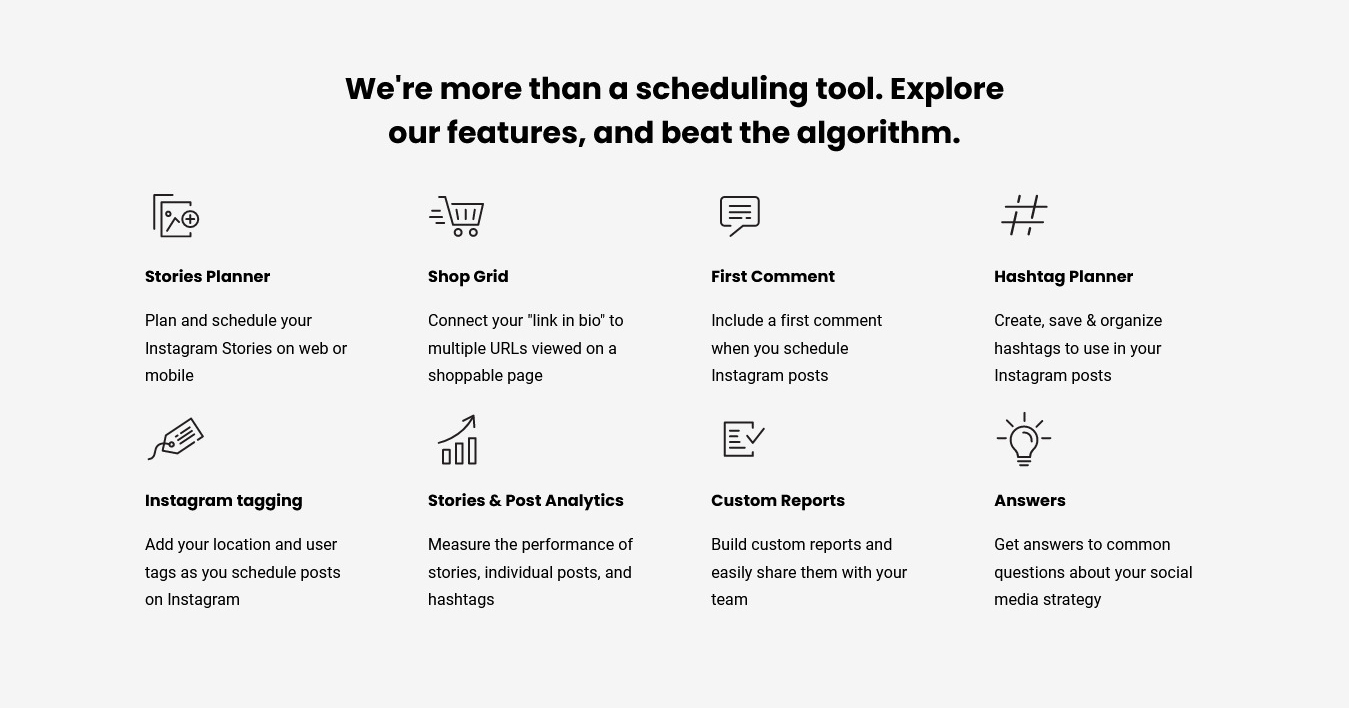 Prices
Free plan (1 user)
$15, $99, $199, and $399 per month, with 14-day free trial
Facebook, Instagram, Twitter, LinkedIn, YouTube, & Pinterest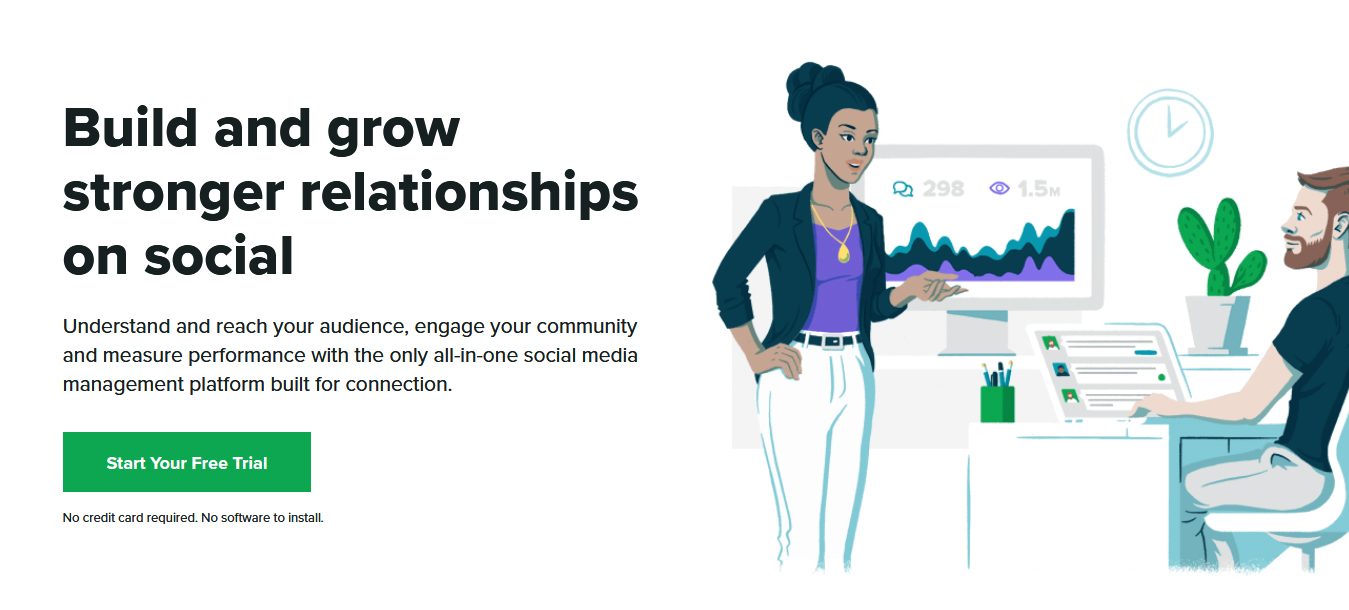 This tool is probably known first and foremost as a one-stop shop for the management and scheduling of all of an organizations' social media accounts with one simple-to-use platform.
The details
Sprout Social is one of the few social media management tools that provide customer relationship management (CRM) features, which offers you a complete profile of your customers to facilitate a better service and forge stronger relationships with them.
It offers individual statistics for each post as well as approvals and administering of permission settings, which caters to digital agencies in addition to medium-sized businesses.
It includes a social inbox tool for communication and engagement with your audience, as well as a social monitoring and keyword search feature.
However, it does not have an Auto Post with queues feature or an influencer search feature.
Unique value
Excellent reports that require little to no editing
CRM features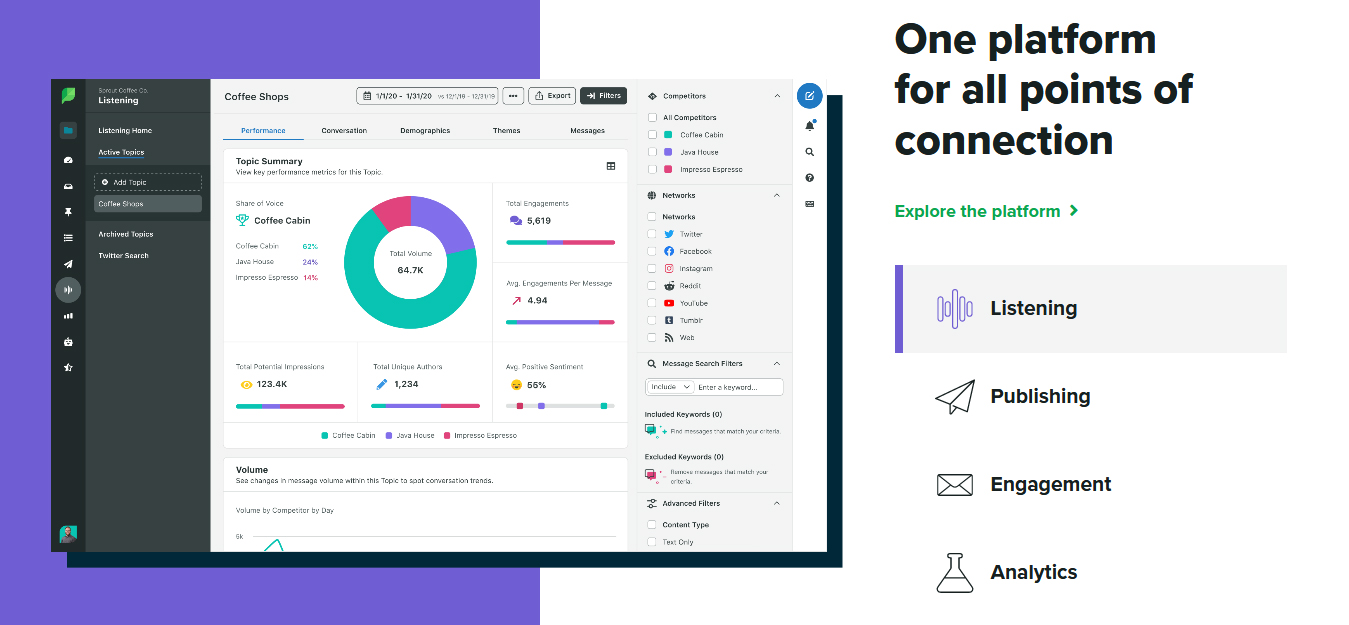 Prices
30-day free trial
$99, $149, and $249, with free trial
Facebook, Instagram, Twitter, LinkedIn, and YouTube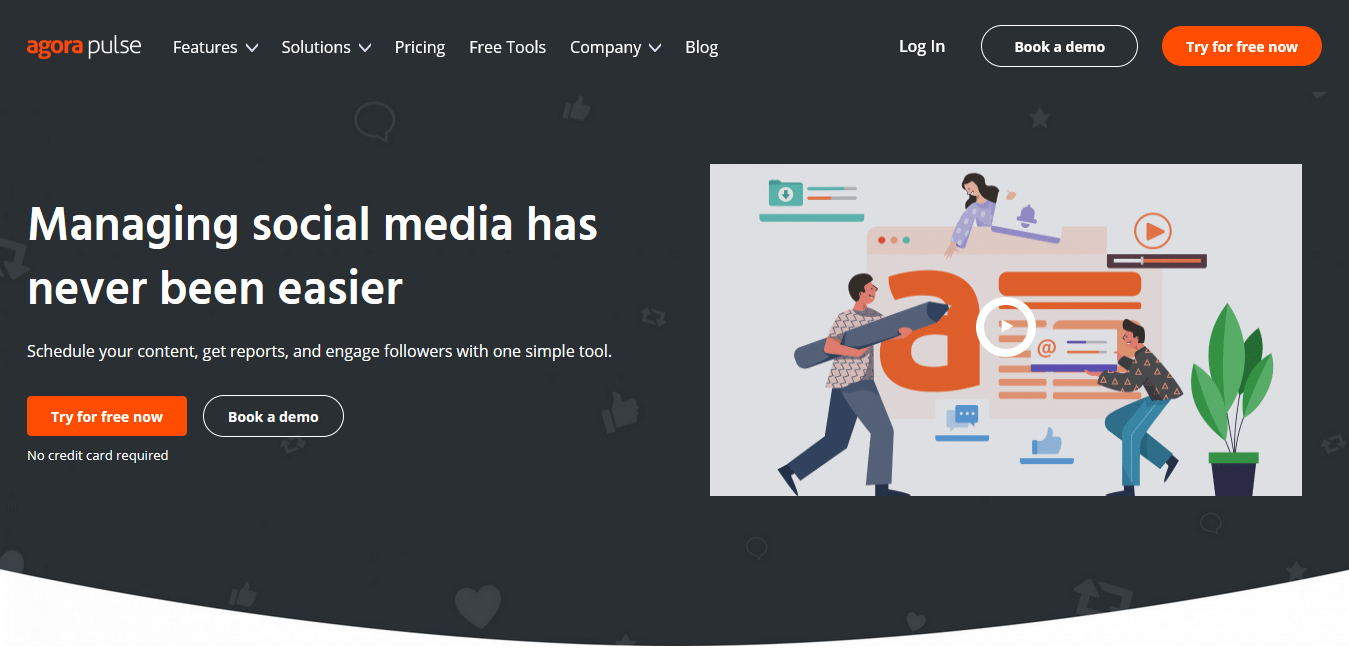 This is also an all-in-one social media management tool with scheduling, responding, and reporting features, as well as team collaboration. Overall, it offers a great platform for agencies with more demanding needs than the ordinary business for general social media management and monitoring.
The details
Agorapulse includes a flexible scheduling tool that allows queueing, rescheduling, or uploading posts in bulk.
It offers a social inbox for monitoring replies to posts, mentions elsewhere, as well as other important messages.
It features a reporting tool that provides analytics relating to content and engagement data, with the option to download as CSV or PPT files.
It also comes with a feature for building a CRM database of followers and other social media users to track, as well as to add, relevant notes.
Agorapulse is also designed to work with teams, where individuals can be assigned specific posts, comments, or other tasks.
Unique value
Competitor analysis
Facebook contest apps at a very affordable price point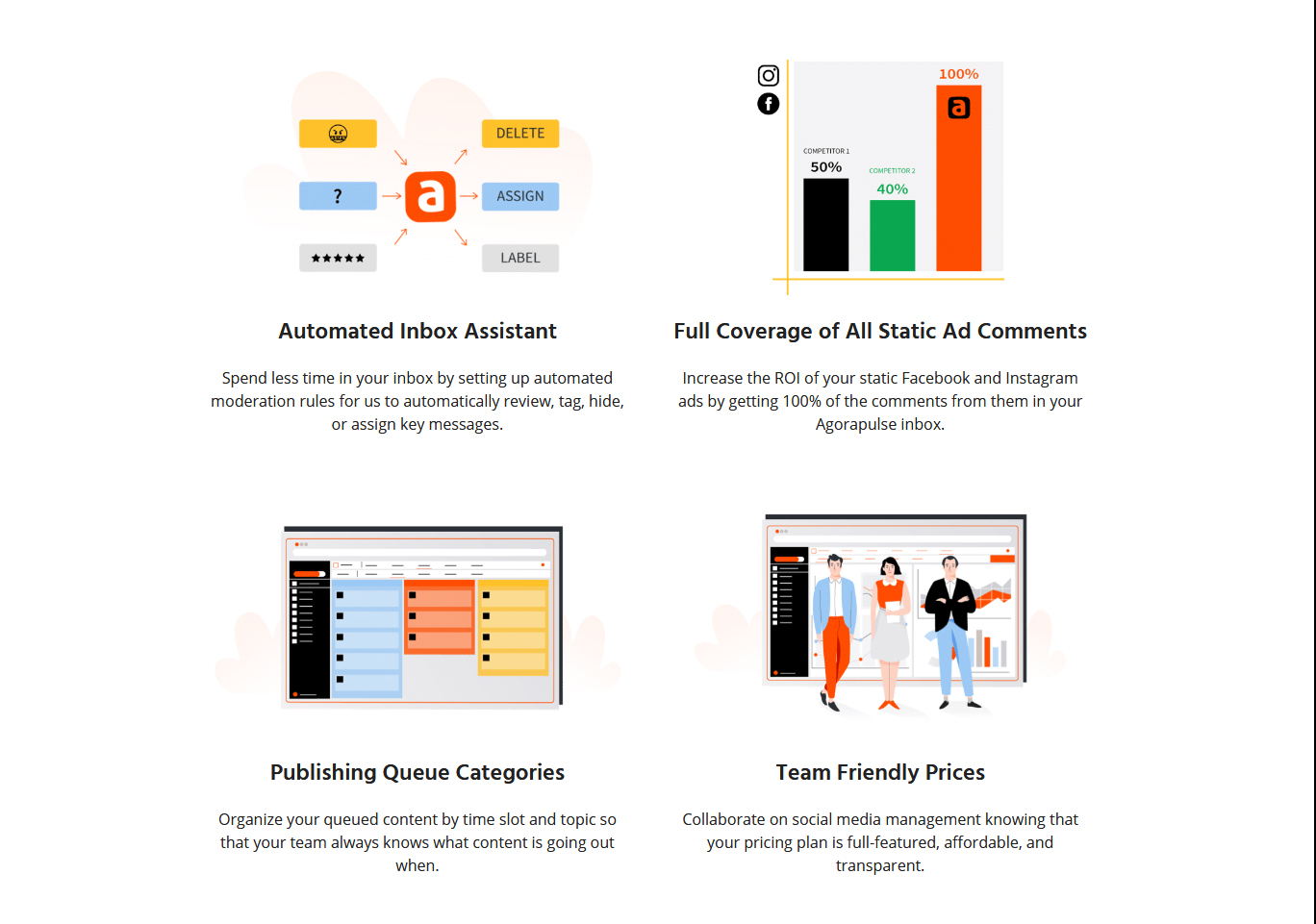 Prices
$79, $159, $239, and $399 per month, with 28-day free trial
Facebook, Facebook Messenger, Instagram, IG Stories, Twitter, Google My Business, LinkedIn, YouTube, and Pinterest; TikTok (coming soon)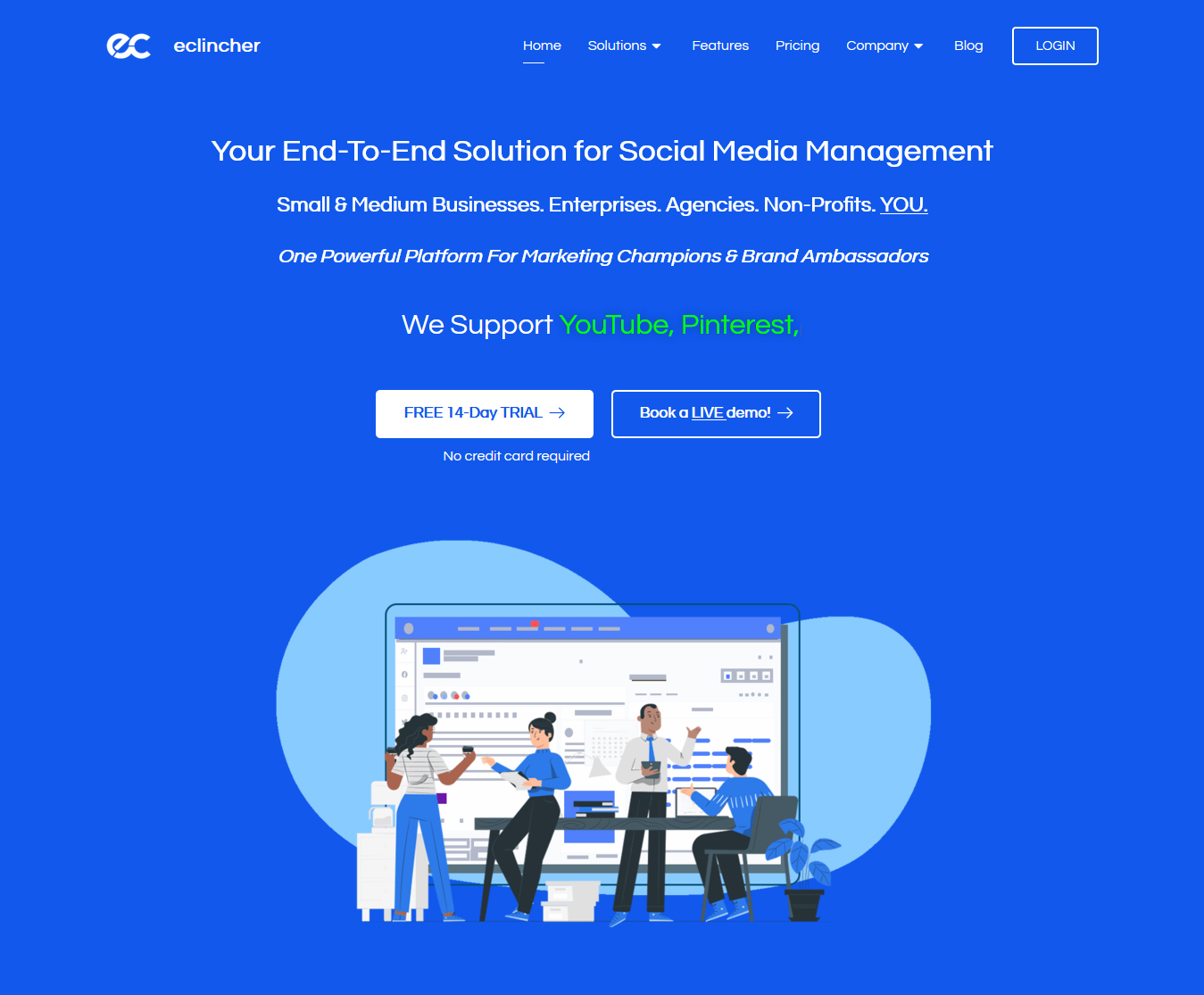 Dubbed "the swiss-army knife of social media," this social media management tool is an all-in-one consistently expanding platform. Their customer support is consistently and notably awarded best in class from sites like G2Crowd, Capterra, GetApp, and the like.
The details
EClincher comes with all the features every social media team needs, which can be scaled from the professional solopreneur, SMBs, and enterprise, to agencies with large teams requiring extra workflow and internal/external team collaboration.
It offers a powerful content publisher; a drag-and-drop visual calendar; campaign tracking; tailored multichannel post editing; custom Instagram grid planning; intuitive scheduler to auto-posting with smart queues; a smart inbox or social CRM for every review, message, or engagement; RSS feed integration; suggested content plus curation; keywords and hashtags monitoring; influencer discovery; analytics reporting (including Google Analytics); URL shorteners; campaign tracking; and more.
Unique value
Auto-posting with smart queues and RSS feeds
A media library for your images
Search for social media influencers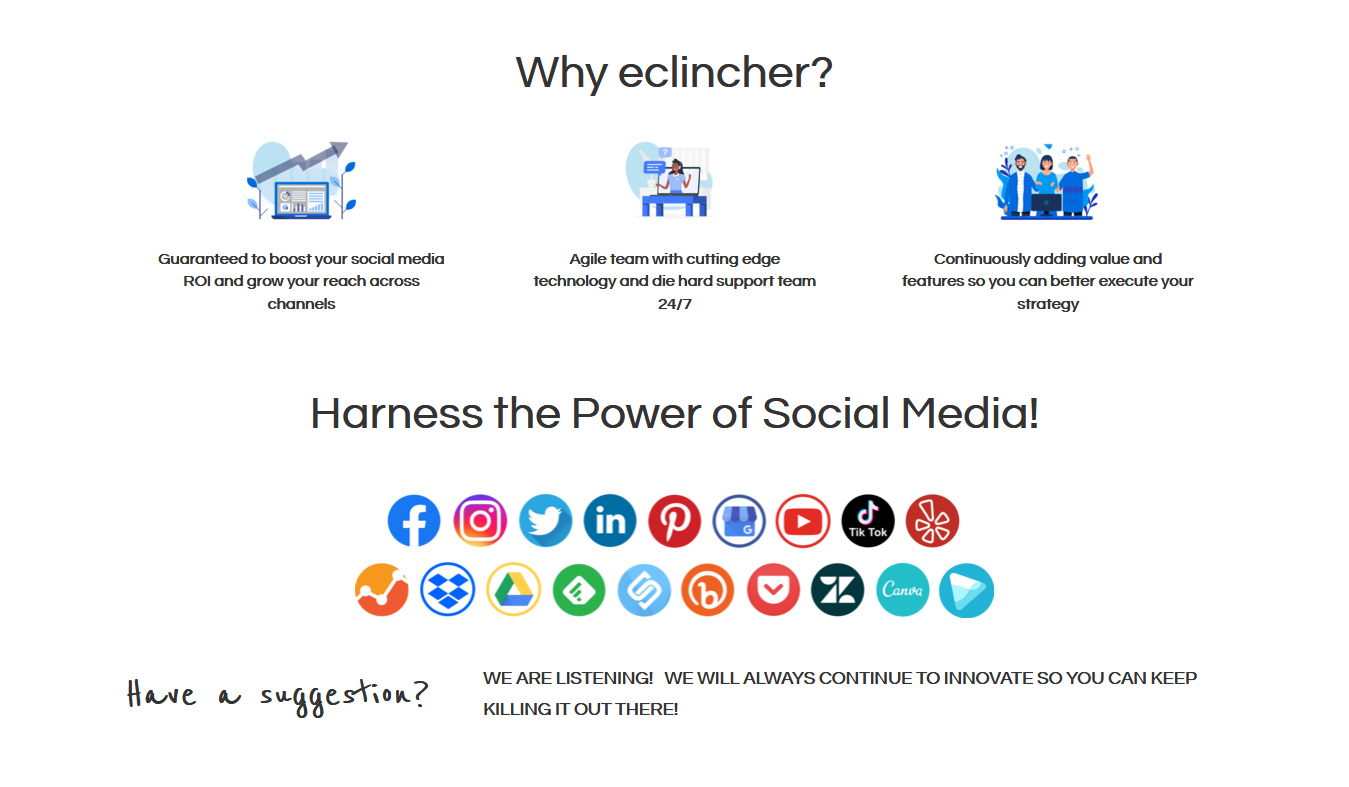 Prices
$59, $119, and $219, with free trial
Conclusion
Harnessing social media to steer your small business toward undeniable success takes more than just being on social media and posting. You need the right social media management tools to help the right people on your team ensure that your social media marketing is enabled by accurate, relevant data.
Because you shouldn't be flying blind. You should be soaring.
Make sure you have the right people to go with the right social media management tools. That's one surefire way to stand out.
Contact Purple Cow today to learn more about our scalable solutions that stand out from the herd.