Video is big in 2020, and keeps getting bigger year after year. As a result, it will only become more popular among your target audience. Learn which types of video content will amp up your social media marketing campaigns and put your brand on the map.
Why Is Video Content Vital to Social Media Marketing?
The rise in the popularity of video has pretty much kept pace with that of social media, and for that, it only makes sense that they should mutually benefit each other.
By 2021, the average person will be spending 100 minutes every day watching online videos, a 19 percent bump from an already- mind-blowing 84 minutes in 2019.
As for younger demographics in particular, 66% of 13- to 19-year-olds and 56% of 8- to 12-year-olds in the US say they watch, and enjoy, videos online every day.
Here are the top reasons why you need to embrace video in your social media marketing campaigns:
They are incredibly versatile.
They let you create outstanding content in both long (full-length documentaries and in-depth interviews) and short formats (30-second quirky post, 60-minute product video), as well as any length in between.
They are insanely shareable on social networks.
They can be consumed on both desktop and mobile environments.
They can be produced as standalone statement pieces or as regular features in a series.
They fit in on practically any content platform—from your website, to your blog, to your various social media channels. They also make for great e-mail attachments, as well as thrive on third-party video sites like YouTube, feature in webinars, or animate SlideShare presentations.
They can be archived or produced spontaneously.
They can be modified and repurposed for your other relevant social media marketing campaigns.
They are very accessible.
They can be viewed on any device, site, and platform, and some can even be downloaded for offline consumption.
They appeal to mobile users.
More and more social network users are mobile, so your social media marketing can benefit greatly if video content is front and center in your campaigns.
They are highly engaging.
They facilitate conversation around your brand and sustain that conversation to enable community building and establish trust and brand loyalty.
They provide great ROI.
Eighty-eight percent of marketers say video marketing provides them with positive ROI, a significant rise from 33 percent in 2015.
They are easy to produce
Technology has made it incredibly easy to shoot, edit, produce, and post videos, not to mention more quickly.
Which Types of Video Should Be Part of Your Social Media Marketing Campaigns?
By now your options are practically mind-blowing, but not all types will work for every brand. We have rounded up the ones that are most relevant for you to consider.
1. Demo videos (product videos)
This is your go-to video type for showing how your product or service works. Whatever else you may throw in to your video for good measure, be sure to do these:
Describe the product or service.
Provide a solution.
Show how the product works.
Communicate a clear call to action—start a free trial, sign up for a free sample, or, simply, buy now.
But don't stop there. Remember that video content is experiencing exponential growth, so your demo videos should be:
Anchored on engaging dialog and narration
Both long enough to effectively explain the product and its benefits and short enough to keep the viewers watching
Professional but accessible
Empathic and relatable
In this product video by Dyson, the narration is impeccable, the video runs at just a little over a minute, the professionalism seamlessly flows into the emphatic solution and relatable concern for personal health and that of loved ones. The video does omit one of the four items that should be included: the call to action. But then again, maybe not. All the three items have been very clearly communicated that the CTA is just as clearly implied.
Meanwhile, the Blendtec "Will It Blend" series, which launched in 2006 and featured the company's CEO no less, ticks the same boxes, with humor and cheekiness blended in for good measure.
Tips
Let your brand identity come through in your product videos. You can do this through your choice of narrator, the overall tone of the narration, the composition of your shots, and so on.
Invest time and money in these videos, because they are potential centerpieces of your content.
2. Livestreams
These are most useful for brands that already have a huge following (real accounts, not fake followers).
They are great for making announcements and giving your audience a peek behind the scenes, which allows them to learn more about your brand and helps build their trust in your brand.
Regular short videos help sustain audience engagement; longer ones can include Q&As and live chats or calls, which is a great communication strategy and a great boost to relationship building.
Here's an example of a short livestream from Modcloth, a self-described "vintage-style fashion, clothing and décor e-retailer":
Tips
Invest in quality technology to ensure great lighting and sound, because the quality of video content has hugely improved over the years.
Establish a regular schedule to make it easier for your audience to tune in.
Make your video more visible with scheduling tools like Facebook's Premiere or Switcher Studio.
Promote your livestreams on your social media accounts ahead of schedule.
3. Tutorial videos
They are among the most frequently shared on social media and can relate to your products and/or services or tackle much broader topics that resonate with both your audience and industry.
To be effective, these videos need to be all of these:
Clear and well structured
Clear divisions facilitate learning. Keep it simple: an introduction and overview, the tutorial presentation with clearly itemized steps and lists, and a recap.
Informative and educational
People click on tutorial videos to learn, so be sure to deliver relevant, helpful information.
Engaging/entertaining
Include trivia and anecdotes and, if it fits your brand personality, quirky asides or graphics.
Tutorial videos should be long enough to be comprehensive and short enough to be engaging.
This Lowe's tutorial video on installing landscape lighting is just under 20 minutes—just long enough for a detailed presentation. It starts with a clear overview of what the tutorial covers and is peppered throughout with helpful tips and both mentions of products used and organic product placement.
Tips
Get your followers' input on the kind of tutorials they would be most interested to watch.
Engage in your comments section, and respond to messages throughout a video's life span.
If you're going to include text, especially for outlining the steps for an activity or procedure, be sure your spelling is flawless and your grammar is accurate, especially where parallelism is concerned.
Have a clear call to action at the end of the tutorial video.
4. Behind-the-scenes videos
Because standing out spells the difference between a brand thriving and struggling, factors like brand story, personality, and company culture gain even greater significance.
These videos are humanizing and basically let the audience in past the lobby, past the product/service, to meet the people who make things happen and keep things running to put the products in their hands and the services making a difference in their lives. Viewers are treated to an immersive experience that facilitates a connection with your brand now that they can see actual faces and learn the names of real people, and get insight into what life is like for people involved with your brand.
Behind-the-scenes and company culture videos can be live or otherwise. They can be anything from regularly scheduled activities (e.g., Dress as Your Colleague Day), brainstorming sessions, Scrum meetings, office pranks, etc. The goal is the same: to allow your audience to get to know you.
This Converse behind-the-scenes Instagram video features a key talent in the Converse team, highlights the company values that drive her work, and gives viewers a glimpse into the work that goes behind the products.
Meanwhile, self-proclaimed destination for simple recipes Minimalist Baker is posting Instagram Stories that show great behind-the-scenes video content.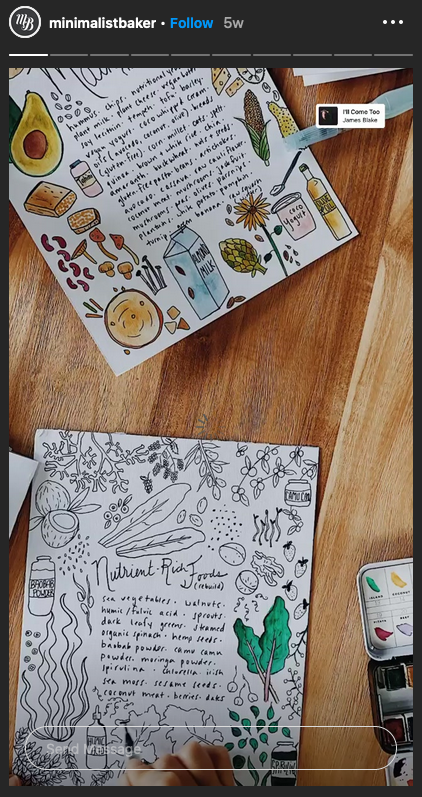 Tips
Instagram Stories is a great venue for your behind-the-scenes content.
Highlight your company culture and brand personality through your employees.
Let your viewers hear the sounds in your office, store/shop, worksite, etc.
Include a call to action.
5. Interviews and Q&As
If you're looking to establish yourself as an authority in your industry, producing this type of video content as part of your social media marketing strategy enables you to do just that:
They allow you to align your brand with a thought leader, an innovator, or an all-around inspiring individual.
They help you establish your brand as a legitimate voice.
They give your audience a more intimate experience that includes an influential voice, whether from your industry or elsewhere, tackles difficult questions and timely issues.
Interview videos lend themselves well to a series format, and these days, practically every industry can boast of a healthy number of worthy interview subjects whose knowledge and stories will enrich the stories your brand is narrating.
One good example of companies using one-on-one video interviews is Drift, with Coffee with a CMO.
Tips
Work off of a set of clearly drawn guidelines, but ultimately, the interviews should have a spontaneous, conversational feel.
If you're looking to start an interview-focused video content, be sure to have a few interviews lined up to ensure you are able to post regularly.
Be sure your interviewer has a great instinct for drawing their guests out to express their views and share their stories—and even better if they have a great sense of humor.
6. Vlogs
Video blogging gives you a way to create cost-effective video content that helps you fine-tune your brand voice and image to create an identity your target audience can relate to.
The characteristic rawness of video blogs easily makes your brand accessible, and lends your social media marketing campaigns an unmistakable authenticity and spontaneity. Because of this, vlogs are a powerful relationship-building tool.
This Adobe vlog, for example, is proving that involving customers by detailing their interactions with your brand is one surefire way to build relationships.
Tips
You can't go wrong with creating content around your day at work.
Start short, at two to four minutes long.
Use decent equipment (raw doesn't mean bad quality).
Exhaust your available, and appropriate, distribution options.
Factor SEO into determining the titles of your vlog posts.
Always include a clear call to action.
7. Event videos
If your business is hosting an event or have been invited to participate in one (a conference or talk, a fundraiser, a round-table discussion), consider creating event videos to let your audience in on this particular aspect of their brand experience. Your options can include a highlight reel, spontaneous interviews, and standout presentations, particularly if they relate to your brand.
Nothing inspires us more than fresh ideas. Meet a few of the 350+ talented #WWDC18 student scholarship winners! pic.twitter.com/XHRQdgCugE

— Tim Cook (@tim_cook) June 4, 2018
Tips
Use a good camera or have your content team take care of the production.
Include a behind-the-scenes reel to give your audience a sense of inclusion.
8. User-generated video content
Users are more likely to share their own video content, which makes these videos a brilliant, organic way to build your audience. Not only that, video content created by users are a great source of insight regarding who the members of your audience are and what they're interested in, and what you can offer them.
Remember the Adobe vlog from number 6? Not a bad idea at all.
Tips 
Give users license to get creative, even silly, with their video content.
Increase engagement by offering a giveaway or holding a contest linked to user-generated videos
Acknowledge and thank the creators of the submitted content.
Encourage featured users to share the videos with those in their network.
Ask other users to vote on these user-created videos or to share their favorites.
Track your hashtags.
Conclusion
Social media marketing without video? Highly likely this will soon be completely unthinkable. Video content offers multiple game-changing benefits, and more and more businesses are emerging as real winners for leveraging video for their social media marketing.
Are you ready to make your winning moves?
Make working with a standout marketing agency with a standout social media marketing team one of those moves.
Contact Purple Cow today to learn more about our easily scalable digital marketing solutions.